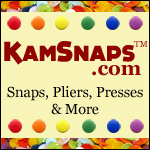 KAMsnaps.com has reached 5,000 likes on their Facebook page.  They are celebrating by  having a massive give away.
Then head over to KAMsnaps.com to enter to win one of the 42 awesome prizes.
I love using KAM snaps.  They made super easy closures for my Halloween costumes.  They hold well and look cute!